Who has invited you to apply (Member or higher) and for how long have you known said person?:

-D3nny
-Jay
-Bosha
-Jumbo

Preferred name:

-KingTheGreat

Current and past display names (include as many as you can remember):

-Anonymous Community name changes

IRC nicks:

-KingTheGreat
Are you currently in our Discord? (If not use the following link to join: https://discord.gg/xbweYGD)
- Yes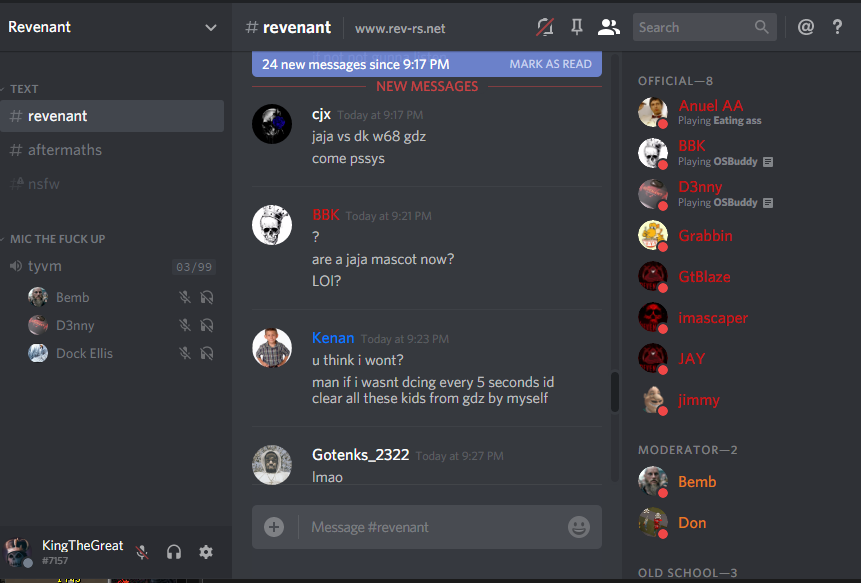 Timezone:

- Central

Tell us about yourself:

- Hello Revenant Gamers, most of you know me as the leader of Reapers of Runescape or from Zybez, and y'all been asking me to join for awhile. I decided to finally make an intro, however this doesn't mean Reapers will be closing, I will continue to grow my community while getting more knowledgeable in the competitive scene to progress not only myself but my clan as well.
My name is Tanner, I live in Texas, and I have been playing this game for 15 years. I mainly just stay at home, playing this game and others while chatting with my guys and with Revenant. I currently am not in school or have a job, hopefully that will change soon, will not change my activity on RS though.
I enjoy clanning a lot, and most of y'all have seen me try my hardest to get Jagex involvement in the game, I also try to post as much as possible on Zybez.

Have you Applied to Revenant before, if you answer yes what happened?:

- No

How much experience in months/years do you have of P2P fights?:

- 3 years

Why have you chose to introduce yourself to Revenant?:

- I would like to further my knowledge in competitive fighting and Revenant seems to be the best option.

Why should we allow you to join? What would you bring to Revenant?:

- I can bring you a valuable player who has decent connection with Jagex, a decent tank/multi Pker, someone you can trust, and someone who can be pretty loyal. I am also a very active user on Forums and doing in-game events outside of PKing. I try to have fun with the game and that is what I see this game is used for, mainly to have a good time. Also, I can bring you another player who despises the Cutthroat Alliance.

Picture of your Combat Level with Stats: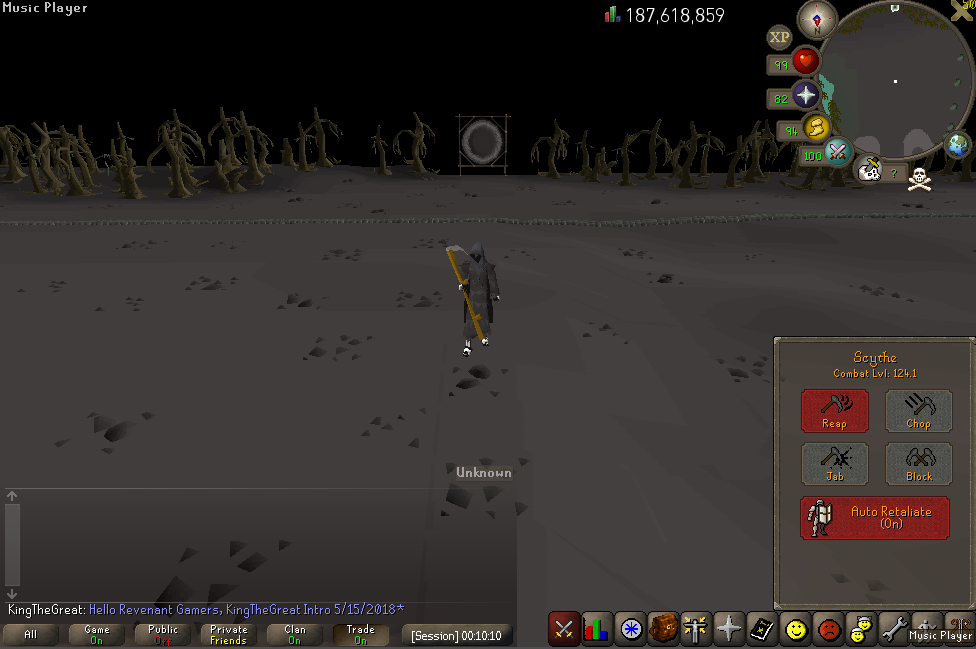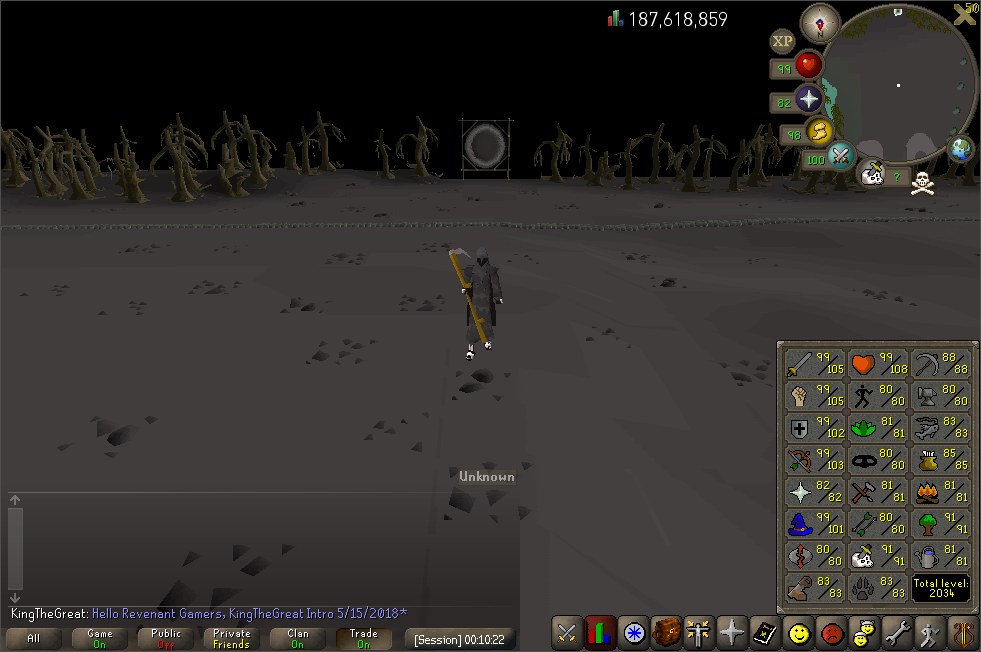 Picture of your P2P return sets with the required Clan Wars items (Read pinned set requirements topic before posting) (No Cropped Images):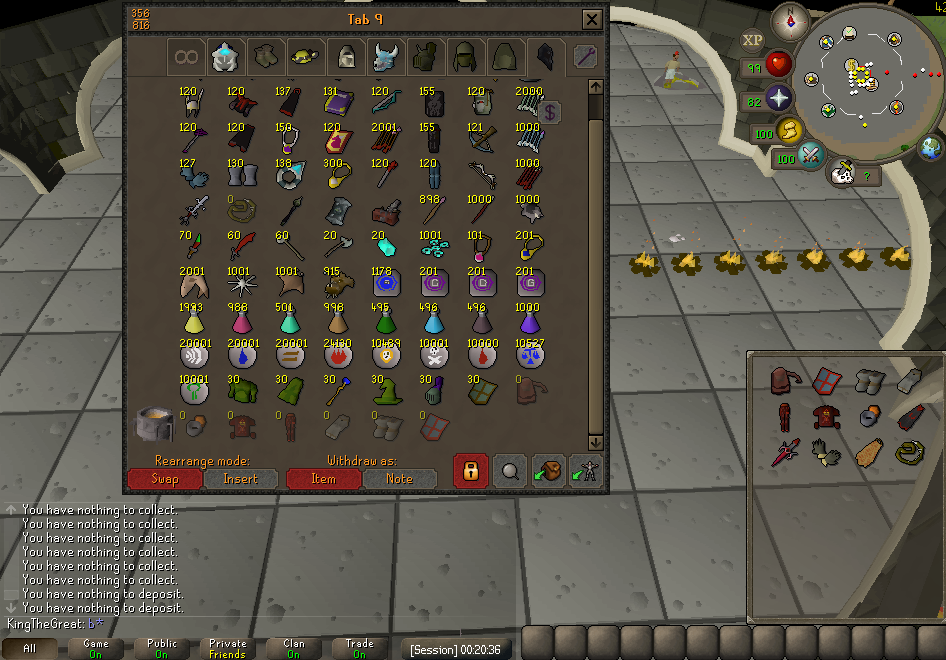 Proof of Augury unlocked: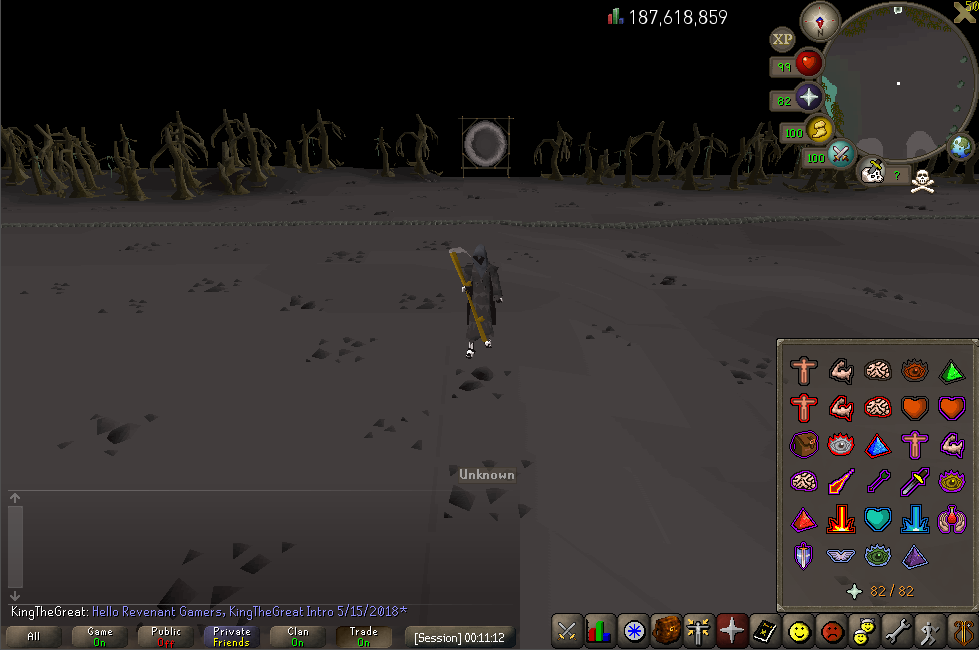 List all the Clans, Teams and Communities you've been apart of (Include how your time in each of them went, how long you were there, and why you are no longer with them):

-Anonymous Community (2013-2016) Anonymous Community was my first ever clan, cause one of my good friends who is no longer with us told me to join. The 1st year of AC, I was not active as I wasn't interested in clanning during the time. As soon as Deadman came out, I figured I give clanning a try and worked my way up in ranks in AC. It was quite enjoyable during DMM and some 07. When I got a difficult job and had a relationship during that time, I decided to step down as a rank in AC. When things started to clear up, I decided to rejoin in trying to get my rank back, but I figured out the new ranks that were there were just killing the clan. I was in AC for 3 years. I warned Sp33dy20 about it and he didn't listen, after constant harassment and annoyance I left.
-Damage Inc (2016-2016) After leaving AC and wanting to get into competitive clanning, I wanted to go for the top clans during the time in my eyes which was between AF, RoT and DI. I knew RoT was way too difficult, and AF I disliked cause of certain people in it. So, I decided to join Damage Inc. I was in DI for maybe 2 weeks at most as a Future Applicant before getting kicked from it for I don't even know. I am assuming it was cause of my obsession with destroying AC during the time.
-Reapers of Runescape (2016-20??) After getting annoyed heavily and tired of the crap going on between the clans and knowing I probably wouldn't have a chance with any other clans due to me getting kicked from Damage Inc, I decided enough was enough and created Reapers of Runescape. To this day, I am thankful to the loyal members of Reapers and glad they are still with me even with our ups and downs. The 1st 6 months of Reapers were the greatest for us, atm we aren't doing so well cause of my IRL problems, but things will change around soon and I will make sure people put respect on my name. I am sick and tired of it, and will become a top tier clan leader as soon a chance is available. I will continue to grow my clan and will work on not only helping myself, my clan, but the entire clan world.

Do you know any current Revenant members, if so how long have you known them & how did you first meet them?:

- D3nny (1+ years) I met D3nny through Zybez, and am glad we met. I talk to him as much as I can and glad Revenant continues to grow everyday and has become a promising clan to be reckoned with.
-Jay (1 year) I met Jay through D3nny after he invited me to Revenant's TS. He is a very respectful guy in my opinion and hope I can learn some things from him, same with D3nny.
-Bosha (6 months) I knew of Bosha before his time in Revenant, he is a bit of a troll at times, but a very genuine guy. I am glad I officially got to talk with him.
-Jumbo (6 months) This guy is very much the biggest fool around in Revenant but is a very funny guy. I met him in Teamspeak. He has told me to this day that I said "smackerino in the panchino" but I don't recall, however I just made it my catchphrase for Revenant so touché.

Use the space below to reply to any comments/criticism on your application:

-Cutthroat will be in the grave by my hands with everything I got by the end of this Summer.
Edited by KingTheGreat, 16 May 2018 - 03:30 AM.